Sukkot Recipes -- Kosher of course!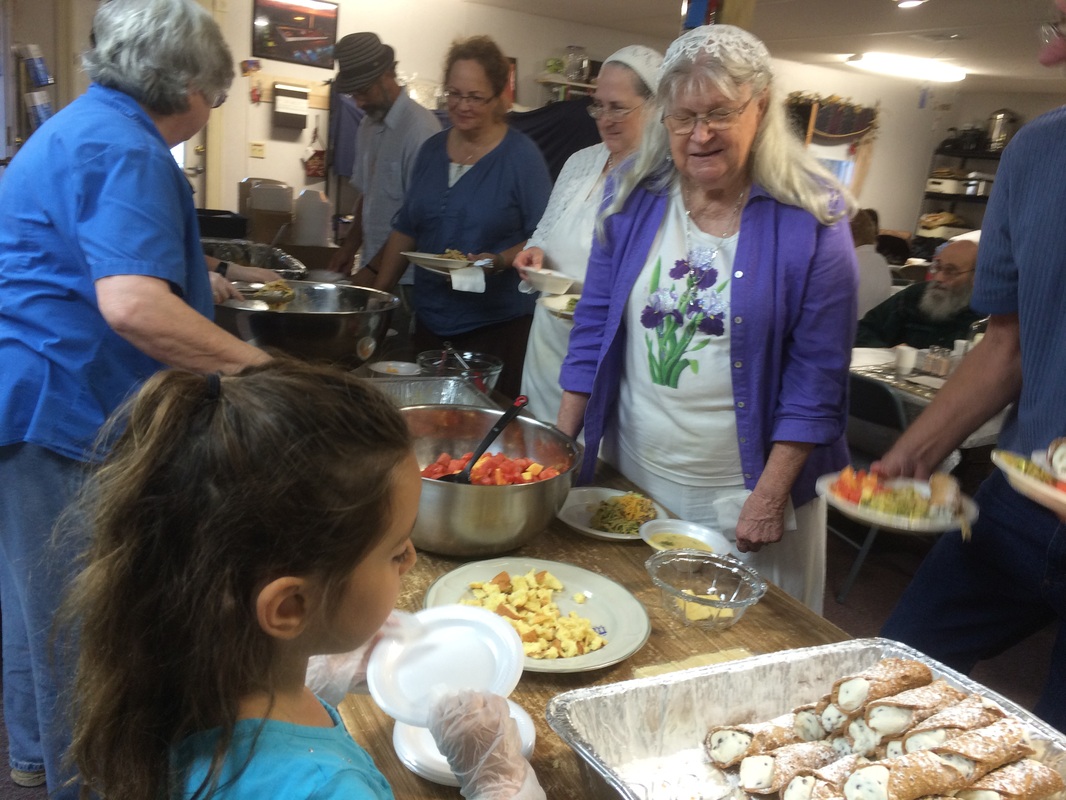 <<< Breakfast >>>
Turkey Breakfast Sausage

Cut the black, red and white peppers in half unless you like really spicy sausage. It always gets rave reviews.
Make it with Kosher ground turkey and you've got a masterpiece!


Sausage Gravy

Although this recipe calls for mystery meat sausage (why people eat pig is a mystery to me)
make the turkey above for a delicious Kosher version of a southern favorite.


Hash Browns Casserole

We didn't get to make this for Sukkot, but it is a favorite! To make it Kosher, substitute heavy whipping cream and a teaspoon of Kosher
chicken soup
base instead of the can of cream of chicken soup. Incredibly good and not a sin in sight ... a little cholesterol, maybe, but no sin!
<<< Soups >>>
<<< Salads >>>
<<< Main Courses >>>>
Gingery Chickpeas in Spicy Tomato Sauce

Make it in either a crock pot or on top of the stove for an easy, tasty vegetarian meal.


Macaroni and Cheese Casserole

Another one-dish, quick and easy, hearty, tasty meal! Use one tall box (or two) of
Publix
brand Macaroni and Cheese (it is OU kosher).
During the last minute of boiling the pasta, throw in the contents of a bag of frozen peas and carrots. Drain the pasta, peas and carrots.
Mix the cheese sauce according to directions (mix the cheese powder, oil/margarine and milk (or sour cream) together first;
then mix the cheese sauce into the pasta, peas and carrots. Want an extraordinary treat??
Add a crumbled,
browned
pound of the
Turkey Sausage
listed above. Spectacular!


Pineapple Black Bean Enchiladas

Although we didn't get to have this for Sukkot, it is something I frequently bring to our covered dish suppers.
I use crushed pineapple instead of tidbits -- to me the flavors meld better.


Simply Sour Cream Chicken Enchiladas

Delicious and easy! Can you tell I like that?? I add a sprinkle of chili powder to the chicken-onion mix along with a sprinkle of
seasoning salt, cumin and black pepper. I also 'short cut' by adding the cheese to the chicken mixture instead of putting a spoonful in each enchilada.


Tofu "Chicken" and Rice


Meatloaf

Our version was made with Empire Brand Kosher Ground Turkey. As written, the recipe serves 42.
Use the "change servings" feature to get it down to a more manageable quantity. Unless you really like left over meatloaf sandwiches!!


Taste of Morocco
Hawaiian Chicken (served over white rice)
Veggie Stir Fry
We started with a couple of bags of cole slaw mix, added green peppers, red peppers, frozen peas and carrots
for a colorful and healthful vegetarian meal. We seasoned the mix with fresh ground ginger, garlic and soy sauce.
Add chicken if you like. Serve over rice for a hearty meal. Bon Appetit!

Spinach Ricotta Pie with a Hint of Feta


Raw Pad Thai
Raw Cauliflower Korma
Noodles with Spicy Peanut Sauce


Asian Chicken and Vegetable Wrap


Best Ever Sloppy Joes

We made ours with Empire Kosher Ground Turkey.


Zesto Pesto

Even those who had never had Pesto on their pasta before loved this!


Oven Fried Eggplant

We made these as written, then topped each with a dollop of Barilla (OU Kosher) Pasta Sauce and Parmesan for a great Eggplant Parmigiana


Secretly Delicious Spinach Pie
Meatless Muffuletta Panini
Savory flavors of olives and marinated artichoke hearts with provolone cheese and roasted red peppers in a grilled sandwich. YUM!
Indian Style Fish
We didn't get to make this, but it looks awesome!
White Chicken Chili
A definite winter favorite!
Vada Pav
We simplified this recipe "big time" by using instant mashed potatoes and garbanzo - fava bean flour (from the health food store) to thicken. Rolled into golf ball sized portions and served in dinner rolls. Instead of Instead of frying we sprayed each with olive oil and baked in a hot
(425 degree) oven for 15 minutes. Served with mint chutney and peanut chutney, below.
Southwest Stuffed Peppers
Life handed us a case of red and yellow peppers -- so we made stuffed peppers with a twist!
We also used ground turkey instead of beef for this recipe.
<<< Side Dishes >>>
<<< Breads >>>
Jalapeno Cheese Bread


Favorite Challah


Pumpkin Challah

A great recipe from a site I've only just discovered. Looks great!


Garlic Herb Challah

My first claim to bread-making fame. A little of this and a little of that and
voila'
... a star is born!


Nisu Bread/Cardomom Challah

After making this bread several times, I've incorporated the following changes: I use all 12 ounces of evaporated milk and NO water;
2 eggs instead of 1; 1/3 cup coconut oil instead of butter; about 1 and 1/2 teaspoons of cardamom and 1 tablespoon of yeast.
<<< Desserts >>>
Banana Split "Cake"

We did not get to make this during Sukkot, but it looks like it would be yummy and easy!


Pumpkin Cake with Molasses Icing

Made with ground oatmeal instead of wheat flour, it 's good for those allergic to wheat. It's only down side is that one slice leads to two, etc. ;)


Reeses Squares (No-Bake)

Chocolate and Peanut Butter .... a match made in heaven!


Basboosa (Middle Eastern Cream of Wheat Cake)

Although the contributor of this recipe cites its origins as Arabic, this cake is also very popular in Israel and throughout the Middle East


Sweet Banana Soup

Unusual and delicious, we made this for our Asian night.


Swedish Brownies

These are actually blondies, made with your favorite of lemon, almond, orange, anise or vanilla. Make it plain or add nuts.
Mmmm, how about orange with chocolate chips?!? Ooooh or coconut with chocolate chips! Race you to the kitchen.
It goes together in about 5 minutes!
<<< Miscellaneous >>>
Bobby's Pimento Cheese

After years of living Kosher (and in frustration, not being able to find Kosher Pimento Cheese Spread) I found this recipe and have not looked back.

Sesame Dressing

We used this dressing as part of the Asian Chicken and Vegetable wrap.
Caesar Salad Dressing
We served crispy Romaine lettuce with seasoned croutons, diced seasoned chicken and this yummy dressing. Yum!